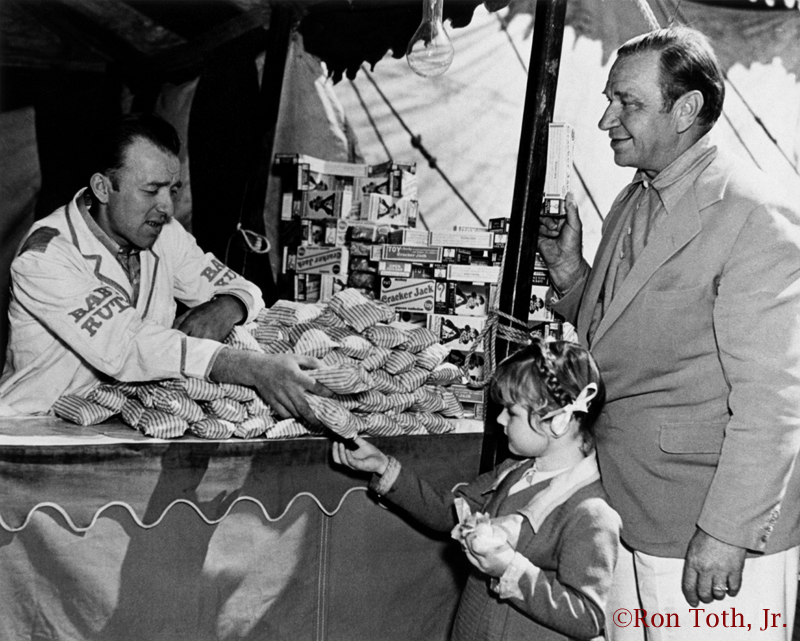 Here is a photograph that is from 1937. It is of actor Wallace Beery, his adopted Daughter Carol Ann and a Circus Peanut & Cracker Jack Vendor. Wallace chooses a box of Cracker Jack and Carol chooses some circus peanuts. Note the stack of Question Mark Mystery Club Cracker Jack boxes! The vendor is wearing a Baby Ruth candy advertising jacket. They are all under a tent.

Wallace Beery was born on April 1, 1885 and died on April 15, 1949 (at age 64)
Among many things, he had appeared in 200 movies over a 36 year span.

The back of the photograph is marked as follows:

Kindly Credit MGM
Photo By ????
982

Beery, Wallace
4-4-50f

"A Day at The Circus With Wallace Beery"
PEANUTS? OF COURSE... What would a circus be without peanuts. Wallace Beery and his adopted daughter, Carol Ann, play hooky to spend a day at the Al G. Barnes and Sells-Floto Circus and don't miss a bet. They went in for everything from pink lemonade to spun sugar. Wally, who ran away from home when he was fourteen to join the famous old Forepaugh-Sells show as a "Bull Man", hasn't missed a circus in twenty-five years. He took a day off from his new starring Metro-Goldwyn-Mayer picture "Good Old Soak" (1937 movie) directed by J. Walter Ruben and produced by Harry Rapf, to spend a day with his old circus pals, many of whom are still with the big top.